The low profile design offers full coverage in the area where horses develop sores. The soft, flexible pocket in the center back of the Hock Shield provides comfort in the delicate area where the tendons pass just under the skin. This is the perfect solution for the majority of horses with hock sores. Now available in two adjustable sizes. Outer Shell – tear-resistant neoprene Lining – soft fleece Because some products can burn skin when wrapped, please consult veterinarian when using medications under our Shields. Plan on replacing your Hock Shields after about 3 months of full-time wear. However, some horses have been known to wear their Hock Shields for 6-12 months.
If a horse has a hock injury or bed sore, repeated lying down can aggravate it and prevent healing. Some sores just become larger and/or deeper. The healing process cannot take place unless a protective layer is placed between the ground and the skin.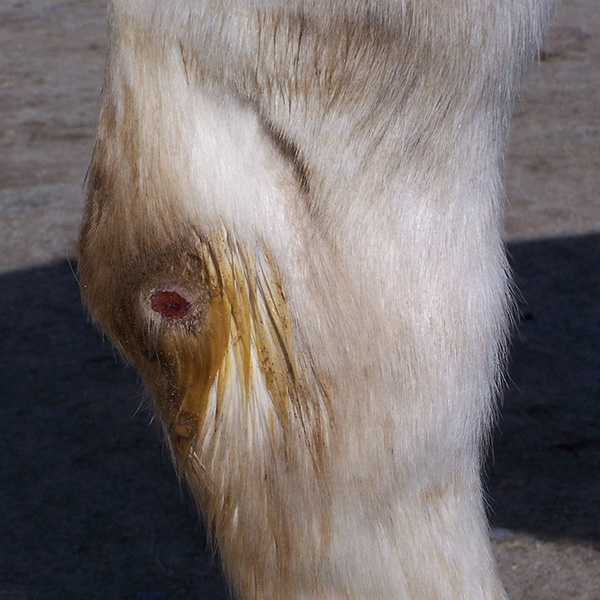 ---
How to determine the correct size:
Measure the smallest point just above the hock joint.
Make sure the leg is straight and the hoof is flat on the ground.
HOCK SHIELD:
13" up to 15.9″= Regular Horse
16" up to 20″= XL/Draft
HOCK SHIELD ULTRA:
13″ – 14.9″ = S/M
15″ – 16.9″ = L/XL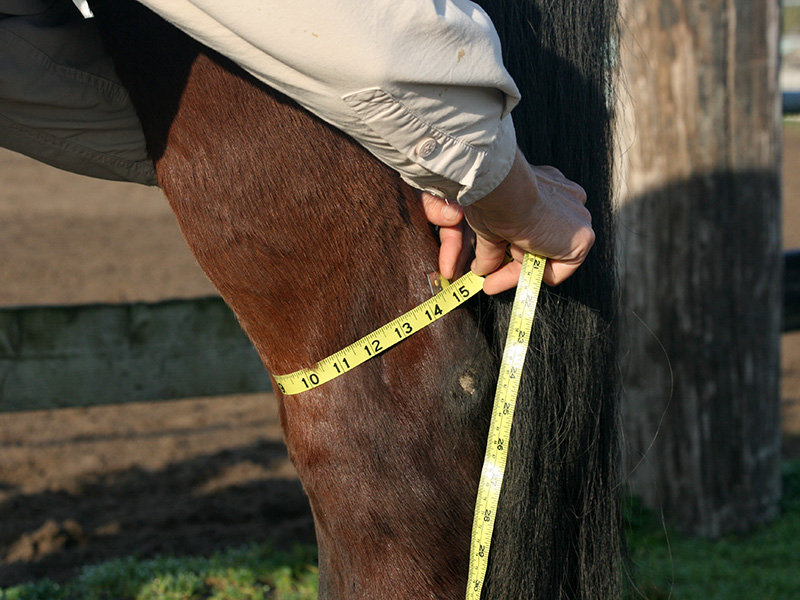 ---
How to attach Hock Shield:
VERY IMPORTANT: Make sure the leg is straight under and the hoof is flat on the ground.
Put the side with the label on the outside of the leg.
Bring the elastic strap around the inside of leg to the outside.
Pull the strap for a "snug" fit.
Lock top Velcro flap down.
Adjust inside tab ONLY if outside tab is too long or too short.
Best fit for Click Hock Shield and Hock Shield Ultra
Make sure the leg is straight under and the hoof is flat on the ground.
You should be able to put two fingers between the horse's leg and the band.
DO NOT pull the elastic strap too tight so as to restrict circulation or create pressure sores. It is better to go too loose than too tight.
With a little experimentation, you will find the perfect fit.
Q: Do Hock Shields really stay up?
A: The Hock Shield was designed to address this very issue. In a 3-week test the Hock Shield had a 100% "stay up" score and a 98% "no turn" score.
If you are having trouble with your Hock Shield slipping down try going a little tighter or a little looser. Keep experimenting.
Make sure the leg is straight under them when you put it on (see photo below). If their leg is stepping forward or behind, the Hock Shield will be too loose when they move.
There are a few horses, because of conformation or their pushing technique, that will have trouble keeping them up.